While we are not typically open to the public, the Nueces Delta Preserve does host some public and special events throughout the year.
Events listed are FREE to the public unless otherwise mentioned, and registration is highly encouraged.
For more information on events at the NDP, please email education@cbbep.org.
These include…:
---
Delta Discovery Day Family Picnics
11:00 am – 2:00 pm
Come and spend a few hours with us at the Delta! Our Delta Discovery Picnics allow students who have visited the Delta through a school field trip to bring their families, share what they've learned, and explore a little more, but of course, everyone is welcome to come enjoy the sights and sounds of the Nueces Delta Preserve.
Please bring a picnic lunch, picnic blanket, sunscreen/bug repellent, and plenty of water for everyone (we recommend at least two bottles per person). Staff will be scattered around the area to answer questions and give background information on plants, animals, and history. We look forward to seeing you out there!
2019-20 School Year: September 14th, October 12th, November 9th, February 8th, March 14th, May 9th
Summer 2020: June 13th, August 8th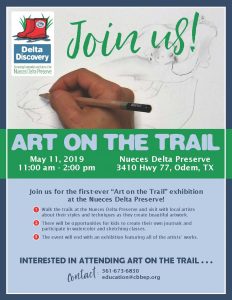 Special Program on May 16th – Art on the Trail
11:00 am – 2:00 pm
Come walk the trails at the Nueces Delta Preserve and visit with local artists about their styles and techniques as they create beautiful artwork. There will be opportunities for kids to create their own journals and participate in watercolor and sketching classes. The event will end with an exhibition featuring all of the artists' works!
Register your family here.
Special Evening Programs
5:30 – 8:30 pm
January 11, 2020: Delta Discovery Star Party
July 11, 2020: Delta Discovery Family Campfire Night
Register your family here.
---
Home School Days: 
Fall Semester: November 8, 2019 & January 10, 2019
Spring Semester: March 13, 2020 & May 8, 2020
Bring your home school students to the Nueces Delta Preserve!
The Education Staff is excited to announce that we are hosting 2 Fall and 2 Spring Semester home school experiences for your K-2, 3-5, 6-8 and 9-12th grader. These Home School Days will allow families an opportunity to connect science curriculum to the Coastal Bend using guided discovery.
These programs will be adapted to meet the developmental needs of children at their specific K-12 learning levels.
• K-2 and 3-5th grade programs will typically run from 10:00am-12:00pm
• 6-8 and 9-12th grade programs will typically run from 10:00am-1:30pm
Space is limited to 20 students per group and is available on a first come first serve basis.
Please register here.
---
Nature Story Time:
2019-20 School Year
9:00 am – 10:30 am
September 10th, October 8th, November 12th, December 10th
January 14th, February 11th, March 10th, April 14th, May 12th, 
2020 Summer
9:00 am – 10:30 am
June 9th, June 23rd, July 14th, July 28th, August 11th, August 25th
Join us at the Nueces Delta Preserve for Nature Story Time on the second Tuesday of the month from 9:00 – 10:30 am. Each story time session will focus on a theme and will allow children, with parent or caregiver, to enjoy days at the Delta with nature-themed stories and other activities including nature walks, crafts, and/or live animals. Story Time activities will be targeted for ages 2 -5, but all are welcome. Dress for outdoor activity. Nature Story Times are held outdoors, except in extreme weather conditions.
Starting in June, Nature Story Time will be held twice a month on the second and fourth Tuesday of the month through August.
Please bring your own snacks and bottled water.
Register your family here.
---
We are proud to partner with such worthy partners for special events at the Nueces Delta Preserve.