Where we Touch the Waters that Touch the World!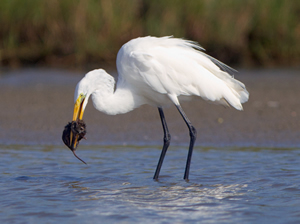 The over 10,000-acre  Nueces Delta Preserve protects valuable wetland habitat and offers engaging field experiences for area students.
Located at the north end of Nueces Bay near Odem, Texas, the property protects a variety of habitats and is known for the quality of its conservation and land management practices.
The Coastal Bend Bays & Estuaries Program (CBBEP) bases its Delta Discovery education program here, offering a variety of free field experiences and workshops to teachers and students through scheduled site visits. At the CBBEP, certified interpreters/educators lead groups to discover "the waters that touch the world."  Student field experiences are aligned to state standards and are available for all grade levels.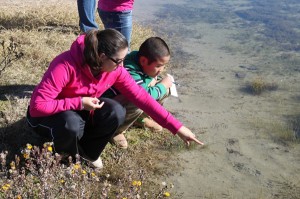 CBBEP workshops encourage teachers to take their knowledge to the classroom. Each workshop participant leaves with knowledge and equipment to continue environmental science education in their schools.
In addition to these education activities, the Nueces Delta Preserve is the site of several research stations and conservation projects. We've re-established a prairie wetland, built nest boxes for owls, planted trees, and removed invasive plants. Our land management efforts conserve the property, enhance the habitats, encourage wildlife, and provide a significant space for learning in nature.
The Nueces Delta Preserve is not open to the public at this time but does host events that are open to the general public. Please see our Events page for more information.
We touch the Waters that Touch the World
Discover a story from a Comanche woman who came to the Delta with her family to "touch the waters that touch the whole earth."  When our staff heard this story and saw the photos in the photo album, we knew this was the best description for what we do.  Whether we are talking about migration, watersheds, or industry, here at the Nueces Delta we touch the waters that touch the world every day.
Special Thanks to our Sponsors!