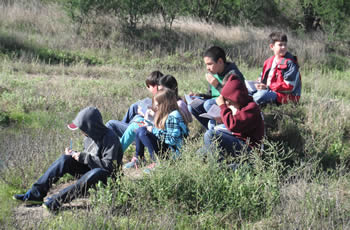 A field trip to the Nueces Delta Preserve will fulfill many of the TEKS (listed on grade level pages). We are an all outdoor field trip that is weather dependent.  The maximum daily field trip size is 100 students and we require a 1:10 student to adult ratio.
Before your field trip please download and review the Teacher Workbook, the Field Guide, Bus Driver Letter, and the Map & Directions found to your left.
Field trips are FREE to any school Pre-K – 12th grade in our 12 county area. These field trips are TEKS aligned and will include a field journal. Please follow your appropriate grade level link below for more information.
We use the 5 senses, a sense of discovery, as well as the scientific method to teach about cycles, systems, organisms, rocks, conservation, plants, and the environment. During our programs, we discuss how these items change over time and we use equipment to collect and record data during investigations.
During the field trip, a number of stations will be run by your teachers and staff. Students will visit these stations in a round robin fashion. The activities provided below are sample trips for each grade level, but as always, you may customize your field trip by meeting with our Education Coordinator.
Elementary and Middle School
Field Trip registration is now closed.
(But will re-open on August 1st for the 2020-2021 School year)